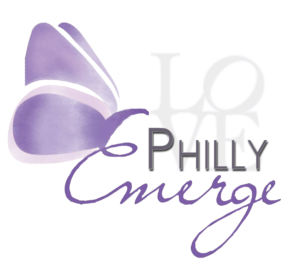 Our Emerge photo shoot team is ecstatic to have partnered with designers, stylists and boutiques for the Philly campaign.  These local rock stars will be dressing and styling our 7 Philly models for their survivor celebrations.  The images will be used in an on-line social media campaign from

October 16 to 31

, as well as a month long fine art exhibit in Fort Worth, Texas. (Domestic Violence Awareness Month).
3 Hairstylists / 3 Make-up Artists
Videographers for Survivor Interviews and Behind the Scenes (as available)
2 Hotel Rooms for

September 4-8
Food for Stylist Team and Survivors
Media Connections
15 Business Sponsors ~ $100 Each ~ Campaign Promotion
Business Sponsors
We would like to invite you to become a Business of Courage.  Your generous $100 donation would sponsor a one day survivor feature during the on-line campaign.  Each day we expect to reach approx. 100,000 people in Philly and the surrounding areas through social media. Your business would be highlighted with the survivor feature as a partner to help end domestic violence.
Why should your business get involved?
~ Supporting Emerge Philly increases your company's commitment to social responsibility while offering community recognition.
~ The Choose Courage Foundation team works tirelessly to highlight our supporters through social media, website, and community partnerships.
~ Your commitment to this event will help your target market associate you with other like-minded quality businesses.
~ Your donation is tax deductible.
~ You are an amazing human who wants to help make a difference.